Resolve Not To Get Behind The Wheel If You've Been Drinking
If you want to make a new year's resolution that will profoundly and positively impact your life, resolve not to start the new year with a DUI. Even a first-time conviction for driving under the influence in Colorado Springs has consequences that will last far longer than a year.
Hefty fines, loss of driving privileges, and jail time are all real and likely outcomes of a guilty verdict or plea in DUI prosecutions. But a DUI on your record will remain long after you've served or completed any sentence.
More Alcohol and More Cops Looking For Drunk Drivers During The Holidays
The chances of starting the new year with a DUI are higher than during almost any other time of year. That is because, for many people, the holiday season tends to include social gatherings with a lot of alcohol. And it also tends to include more police officers on the lookout for drivers who get behind the wheel after one (or five) too many drinks at an office party, family gathering, or other holiday festivities.
As they do every holiday season, the Colorado Department of Transportation (CDOT), the Colorado State Patrol, and the Colorado Springs Police Department work together during the "Holiday Parties" high-visibility DUI enforcement period to catch drunk drivers. These efforts include increased DUI patrols, checkpoints, and other heightened efforts to reduce drunk driving.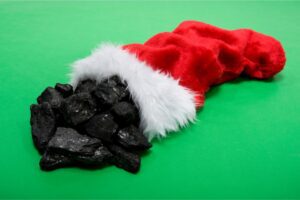 During these increased enforcement periods, the number of DUI arrests and charges go up significantly. According to CDOT, Colorado law enforcement arrested 3,902 drivers for DUI during increased enforcement periods in 2022. This includes 268 arrests during Thanksgiving week alone.
The bottom line is that while drinking and driving is a bad idea, no matter the time of year, you're at greater risk of getting caught and charged for doing so during the holiday season. Starting the new year with a DUI can put a permanent lump of coal in your Christmas stocking.
Even a First-Time DUI Will Ruin Your Year
Don't make the mistake of thinking that a first-time DUI is no big deal or that the holiday spirit means that prosecutors will go easy on you. Immediately following your arrest for driving under the influence or driving while ability impaired, you need to speak with a Colorado Springs drunk driving attorney.
Starting the new year with a DUI conviction can result in several criminal and civil penalties, including a mandatory minimum of five days up to one year behind bars. But even before or without a conviction, you'll feel the impact of your DUI arrest. The arresting officer will take away your driver's license and give you a temporary driving permit that is only valid for seven days. To avoid full license suspension after a DUI, within those seven days you must request, in writing, a hearing with the Colorado Department of Motor Vehicles.
After a first-time DUI conviction, you may lose your license for nine months. Obtaining an interlock-restricted license to get to work or other obligations, requires that you install an ignition interlock device (IID) on your vehicle. If your conviction is for a BAC of less than 0.15%, you will need to keep the device on your car for at least six months. If your BAC is higher than that, you may need to keep it on for up to two years.
Upon conviction, you may have to pay fines of up to $1,000 plus be on the hook for hundreds of dollars in additional administrative, court, and treatment program costs. You may also need to perform between 48-96 hours of community service and have 12 points added to your driving record, with the increase in insurance premiums that come with those extra points
Be aware that if your first-time DUI caused someone injury or killed another person, you will face substantially more severe punishment.
"Buzzed" Driving Can Also Get You Arrested
Even if you don't start the new year with a DUI, you can still start the year with an arrest and charge for driving with alcohol in your system. In Colorado, it is a crime to drive a motor vehicle while impaired by alcohol even slightly. This offense is called Driving While Ability Impaired (DWAI) by alcohol and can have consequences just as harsh as a DUI conviction.
The law states that a driver is presumed impaired if their blood or breath alcohol is as little as .05. On average, just two or three regular alcoholic beverages consumed in a relatively short time will put a person in this range.
Avoid Starting The New Year With a DUI. Get a Ride Instead.
As former El Paso County prosecutors turned DUI attorneys in Colorado Springs, we know all too well the severe consequences of driving under the influence. Accordingly, we advise that if you attend a holiday or New Year's Eve party and consume alcohol, do not get behind the wheel. Make plans to have a designated driver or arrange for a rideshare pickup at the end of your evening.
CDOT launched the "Nothing Uglier than a DUI" campaign to encourage people to use designated drivers or rideshare services if their holiday celebrations include drinking. From 5:00 p.m. to 5:00 a.m. between December 1, 2022, and January 3, 2023, Coloradans can redeem a $10 Lyft ride credit by entering "DUISRUGLY" in the Promotions section of the app. You can use this link to apply the credit to the Lyft app from your mobile device.
All of us at James Newby Law wish you a joyous and safe holiday season and a very Happy New Year.